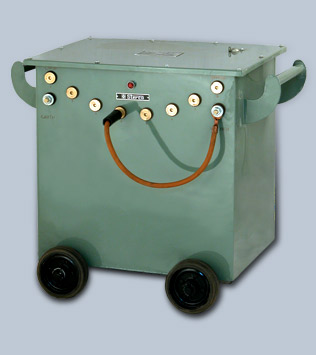 Introduction
Oil Cooled Stepless Regulator Type Arc Welder is suitable for Bridges, Construction Jobs, Automobile Workshops, Steel Furniture, Gate Grills, Truck repairing and all types of fabrication jobs.

The set consists of a Transformer, housed in a steel tank, with heavily wounded primary and secondary coils, with pure copper. The current is controlled by adding variable choke.

The Sterco Arc Welding Transformers are manufactured in accordance with I.S. 1851 (1975) specifications and designed to operate on 230 volts single phase 380/440volts, 50Hz (two lines of three phase A.C supply) It process the highest efficiency and is mounted on four C.I./Rubber wheels.